BLACK PINK's Lisa is fully immersed in the mood of CELINE's deep guitar riffs
<W Korea> I've never heard such hard rock music at a filming studio. This set also looks exactly like CELINE Women's Winter 2023 Collection held last year at LA Walton Theater. I remember that the runway started with "Hello Operator" by The White Stripes
Lisa For some reason, I always hear rock music every time I shoot, and the set played even more rock music today. I really enjoyed the shooting. It's been a long time since I wore skinny jeans, but they were so tight that I couldn't even bend my knees (laughs). I don't dress up like this often, and everything feels so new to me. As I tried on various outfits, I could truly feel what Hedi Slimane was trying to deliver with this collection.
You once said that you feel like a cat walking down the runway whenever you wear CELINE! (Laugh)
It happened today too. I earlier changed into CELINE's clothes, and my walking style immediately changed. I always become a "cool kid" with CELINE. Even a pair of jeans and t-shirt carry tremendous power, and it infuses more confidence in you. Above all, CELINE makes you become who you really are
What was the first CELINE item you tried?
It was a black belt bag, and I must have bought it around late teens because it was before my debut. I was thinking about what to buy for my first designer bag, and I wanted to buy something that I can carry for the rest of my life without considering the budget. Then, my cousin, who loves fashion, recommended me CELINE. So, I checked out CELINE's bags and I immediately fell in love at first sight.
Did you head to the CELINE store with your mom?
No, I went alone. I got a taxi in the early morning as soon as the shopping mall opened (laughs).
Was it an open run?
I was probably the first customer that day (laughs). Everyone seemed puzzled to see a girl who came to buy a belt bag. I chose a spacious bag because I carried my items in my bag at that time. I usually keep it at home because I want to cherish my first designer bag.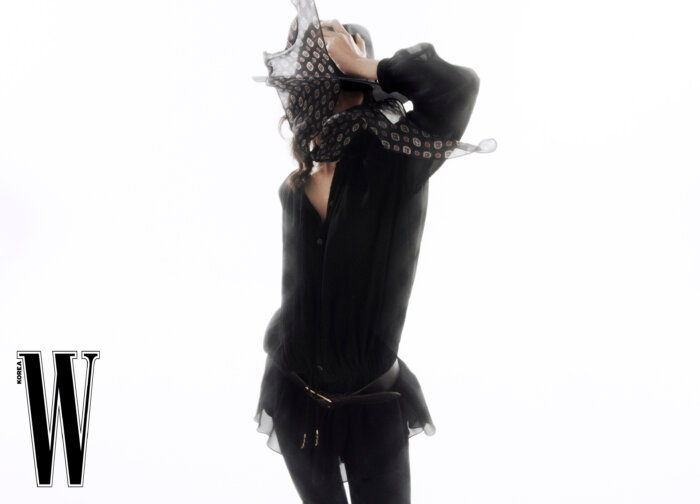 Lisa and CELINE's Hedi Slimane have one thing in common. You released your second photo album, and Hedi Slimane filmed advertisement campaign himself. You both seem to love photography a lot.
I do actually have more cameras than bags. I tried various kinds of cameras, such as CONTAX and LEICA. By the time I first debuted, social media had started trending. Since I wanted to take wonderful pictures that would last forever, I started buying good cameras instead of using my phone's camera. After trying random cameras, I started to grasp the camera models and films I love. Actually, Hedi and I have one more thing in common. We both have dogs. Whenever we meet each other, we always share each other's dogs (laughs). It's funny to see how Hedi's pup, Elvis, enjoys a nice vacation time at St.Tropez or Nice, but my dog, LOVE, always lies on a sofa. Our conversation never ends whenever we talk about our dogs.
The good thing about photograph is that it captures the moment you want to remember forever. When you look back on this year, were there any moments you wanted to capture forever?
Definitely Coachella. When I first stood on the Coachella stage, I wasn't that worried. At that time, I only focused on showing what I had been practicing. But now, things are different, and I know how audiences would react as I go up to the stage. I was even honored as the headliner of 2023. When I came down the stage, I kept crying. When I think about it, I had been feeling a good pressure before standing on the stage. One month before the show, I thought "Oh, Coachella is coming soon." Then, two weeks later, I started thinking, "What should I do?" After going through these times and successfully finishing the stage, I was so relieved and happy, even though I wasn't fully satisfied.
The concert lasted a few hours, but you achieved remarkable growth.
Yes, Coachella was very inspiring, and I could recharge myself with positive energy. As I watched the performance of other musicians, I also thought about what I should try next time.
In interviews, you often said, "I cannot be perfect 24 hours a day, but I do my best with my own standards." What does that mean?
I try not to feel trapped by negative thoughts or emotions. I also try to break negative thoughts, such as "Why do I feel so bad today?" or "Things would have worked out better if I was in a better mood." Even when things don't go well, I just tell myself, "Well, bad things can happen" or "I will do better next time." So, my life motto is "Let It Be," and I feel more comfortable by thinking this way.
I believe people who watch your stages also feel your positive energy.
Even when I feel bad, I consciously make myself feel better quickly. I don't want others to feel uncomfortable because of my bad mood. If it happens, I'd feel so bad for them.
Is there a moment when you made the biggest leap forward?
I can't point out a single point because I gradually gained more confidence over time. My stage attitude also changed because my total amount of confidence got bigger. Of course, my first Coachella experience played a huge part too. To me, Coachella is more than a festival, and it was my life turning point. Before Coachella, I pondered how to enjoy the cycle of comeback, song release, practice, and next comeback. Coachella broadened my horizon of thoughts, and I think I found a way to fully enjoy the stage. I'm sure other BLACKPINK members experienced that too.
What kind of person is 26-year-old Lisa?
When people think of "Musician Lisa," each of them has different images, but I think of myself as a carefree person. I am not that picky about food, and I am not that sensitive either. When someone asks me to describe myself, I'd say "Super Free" is the word that describes Lisa.
How different and how similar are "Musician Lisa" and "Lalisa Manoban?
I don't think there is a huge difference between them. BLINK would probably know that I'm an open and transparent person. I don't hide my thoughts and behaviors. When I meet someone for the first time, I try to show who I truly am. I don't pretend to be someone else to look good to others. I just tell myself, "Sorry, but this is who I am." My friends often tell me, "You don't dress up that much" because I usually meet friends in pajamas without any makeup (laughs).
What is the biggest change you've experienced over the last year?
These days, I often think about things you can do only at certain ages and things I never get to do as I get older. So, whenever I have something that I want to try and say, I always do it. No matter what it is, I tell myself, "I should definitely give it a try," instead of giving up. I have finally become more honest with myself.
What's your biggest ambition?
To be happy. These days, I think about my own happiness more than anyone else's. So, I stay true to my happiness as long as it doesn't harm others.
So, 26-year-old Lisa made the decision to become bold for own happiness.
I really want to live for myself. I don't know why. Maybe it's a puberty thing. I guess I am in my quarter life crisis (laughs)
SPONSORED BY CELINE
패션 에디터

이예지
피처 에디터

전여울
포토그래퍼

장덕화
스타일리스트

박민희
헤어

이선영
메이크업

이명선
네일

박은경
어시스턴트

신지연